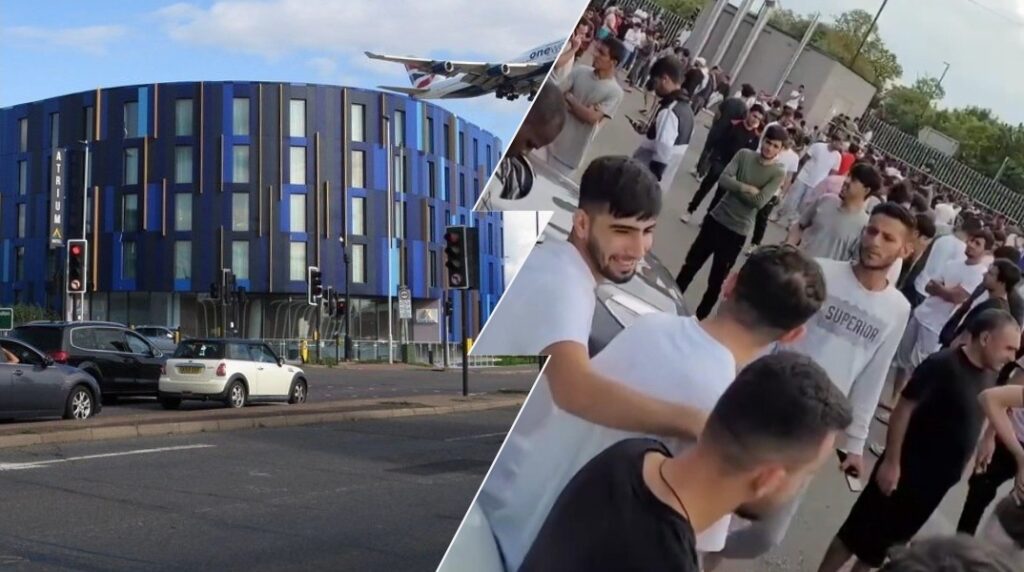 07.11.22
The hotels surrounding Heathrow Airport are currently housing over 4,000 illegal immigrants.
At least 4,000 illegal immigrants are currently housed at the airport hotels after arriving in England via dinghy or the back of a lorry. In these hotels, the overwhelming majority are from middle eastern and African nations.
In footage shared by an illegal immigrant living at one of the Heathrow hotels, you can see hundreds of young fighting-age men loitering around outside the hotels. At first glance, you would never believe the location was in England.
As a nation we have no idea who these people are, but one thing we can be sure of is that the numbers arriving are far higher than the public are aware of.
Ukrainian refugees aren't housed in these hotels as they fall under the banner of a different scheme. The majority of these hotels are closed to the public so that they can keep a constant influx of illegal immigrants within these locations.
Of course, the reason the hotels surrounding the airport are used is simply because the hotels can hold thousands of people all within one location.
The illegal immigrants will remain at the hotels whilst their asylum applications go through the system. Once they have been granted asylum, the illegal immigrants are moved into social housing or homes under the private sector, funded by the taxpayer through corporations such as Serco, Clearsprings ready homes and Mitie.
Around 40,000 illegal immigrants have arrived by boat this year according to MOD statistics. We have no clear figure on those arriving via vehicle or plane. The Home Office and the MOD confirmed they hold no data on those arriving illegally via the Eurotunnel.
Calculations suggest that by the end of the year it will be around 50,000 illegal immigrants by boat, although the true figure for those arriving illegally will be closer to 100,000.